I am excited that Script Frenzy starts in two days.  Script Frenzy is "an international writing event in which participants take on the challenge of writing 100 pages of scripted material in the month of April."  For more info checkout the What is Script Frenzy page.  You have until April 1st to sign up.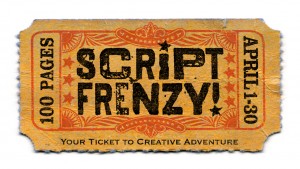 For free scriptwriting software checkout Celtx.
The Script Lab's article on The Eight Sequences.
Guy Gallo's Indiewire article called Screenwriting 101: Everything You Know About Outlining is Wrong
To support Script Frenzy financially go to their donations page.